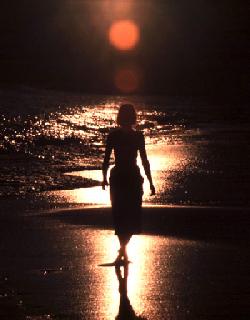 As the beautiful moonlight glistens on the sea,
My thoughts go back to you and me,
A happy time when our love was new,
Deep burning passions, because of you...







Gentle ocean breezes, kissing my face,
Reminding me of you and your warm embrace.
The way that you held me, the way that you cared,
I miss you so much and all that we shared...







I remember the walks, quiet talks on the shore,
Our hearts pounding like the surf, both wanting more.
Looking into your eyes, the sun made them dance,
I'm sure I saw love, not just a summer romance...







I want you, I need you, I do love you so,
I'll wait for you here, when the tide is low,
Standing on the sand, at the edge of the sea,
And I'll wait forever, 'til you come back to me...




Copyright © 2000 Sandy Leigh ~ By The Sea




















*Midi Sequenced by TGL Howie TGL Tunes





ByTheSeashore@hotmail.com



Please do not add my copyrighted poems to any other collection.



Copyright © 1998-2010 BY THE SEA