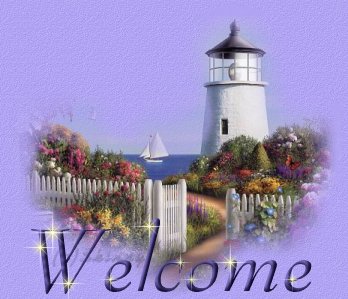 BY THE SEA
Hello and welcome to Sandy's BY THE SEA. I have always loved the water, be it a pond, stream, babbling brook, lake, waterfalls, and especially the ocean. In New England, the choices are endless to be near the water.


Ponds, streams, brooks and lakes are plentiful in country settings. The White Mountains in New Hampshire have many waterfalls on the Kancamagus Highway. It is so relaxing to sit on the rocks and have the babbling brook's water run over you on its way to the falls. Many foot bridges cross the waterfalls or hug the gigantic rock ledges and it is such an awesome sight.


To the south is Cape Cod, with its beautiful harbors, quaint villages and sandy beaches. On a warm and sunny morning, there is nothing more beautiful than to see the sun glisten on the ocean....with no one around but the seagulls and the sandpipers as the surf kisses the sand. A day "by the sea" will truly bring you peace and serenity.


On this site, you will find 40 ocean romance poems that I have written along with some of my favorite prose and poetry about the sea, and life's reflections. Thank you for stopping by and I hope you will enjoy your visit By The Sea....


My poetry is copyright protected. Please do not add my poems to any other collection without my permission. Thank you.

*Midi Sequenced by RedSal
By The Sea is a non-profit website. Midi files and graphics have been sourced and credit given when creator was found. If anyone who finds their artistry on my pages wishes them to be removed or credit given, please contact me and credit or removal will be done promptly. Thank you.
Copyright 1998-2012 BY THE SEA